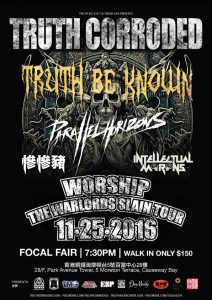 TRUTH BE KNOWN – HEARTOWN FESTIVAL
ToughLive is pleased to announce Singapore's Death Grind n Rollers Truth Be Known  will be joining this year Heartown festival, held in Taiwan, Taichung. Featuring international  ARCHITECTS (UK) VEIL OF MAYA (US) I KILLED THE PROM QUEEN (AU) , Truth Corroded (AU) and regional acts like Anthelion 幻日(TW)  as well as up to 90 bands from across the world.
Truth Be Known will be making their debut in HongKong on the 25/11 together with long time tourmate Truth Corroded.
Related show