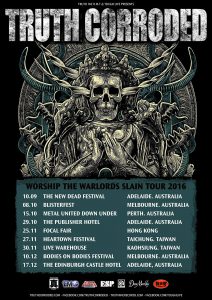 Truth Corroded -Worship the Warlords Slain Tour 2016
ToughLive is pleased to confirm the upcoming Asian dates for Australia Death/Thrash metaller Truth Corroded  'Worship The Warlords Slain Tour!' Also joining the band on the Hong Kong and Taiwan shows will be former Truth Corroded guitarist Wayne Batters who played with the band from 2011-2014. Each will be filling in for Kieran and Trent respectively.
As part of the tour Truth Corroded will be performing Heartown Festival in Taiwan on Nov 27 alongside ARCHITECTS (UK) VEIL OF MAYA (US) I KILLED THE PROM QUEEN (AU) , Anthelion 幻日(TW) and Truth Be Known (SG) as well as up to 90 bands from across the world. We cannot wait to get back to Hong Kong and Taiwan to slay the stage and party with friends old and new!!
Hong Kong & Taiwan dates:
25.11.16 Focal Fair, Hong Kong
27.11.16 Heartown Festival, Taichung. Taiwan
30.11.16 Live Warehouse, Kaohsiung. Taiwan
Related show